Discover our offers and book
Hotel FrontAir Congress (airport) Sant Boi de Llobregat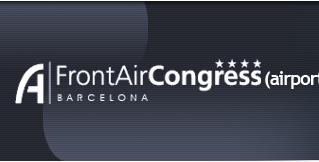 FrontAir Congress Hotel (airport) in Barcelona, in its strategic Underground area.

It is a recently-opened 4-star hotel offering the best installations and luxury rooms for all kinds of traveler, especially for people travelling for business, since it relies on roomy and modern conference halls.

Your stay will be perfect thanks to our Wellbeing Spa.

The hotel also offers a complimentary shuttle service to the new Airport Terminal T1, every day, 24 hours a day.
Once the guest arrives to the terminal, has to call to the hotel to advice that needs to be picked up.

This is a service with a limited capacity. The schedule could be afected due to the traffic.

The hotel offers a shuttle (max. capacity 12 pax.), totally free and with every 45 minutes departure from the Hotel. As the service is in both Barcelona's Airport Terminals, some times the waiting time for the pick up service in the Airport, could be more than expected for the guest. The hotel couldn't confirm a waiting time exactly and for this reason the hotel won't be responsible for waiting times superiors at normal time. At the same time, and because this is a added value, with no cost for the guest, and with a limited capacity, it's important to book the service from the hotel to the Airport one day before, because if the service is full, the hotel won't be responsible for this.
Give us your Feedback
Hotel FrontAir Congress (airport), C/ Alberedes, 16 - Sant Boi de Llobregat